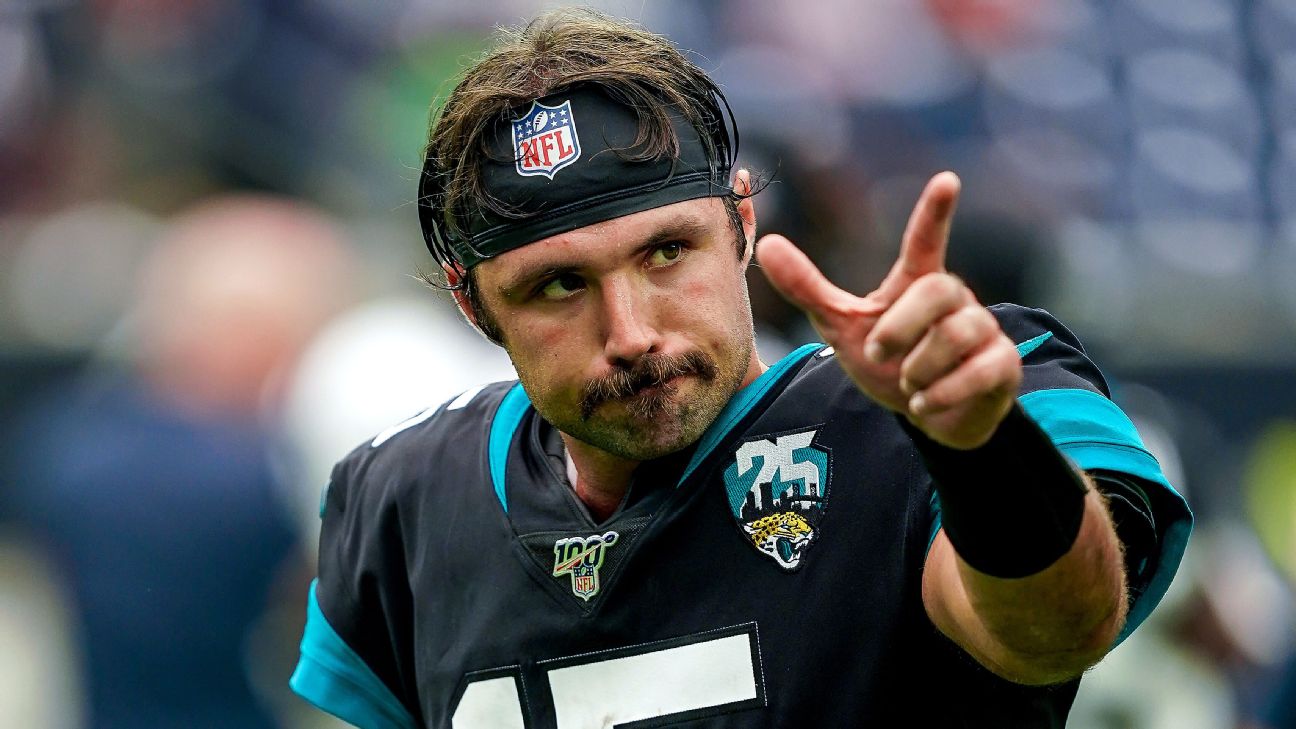 The 2020 NFL Season is nearly upon us, and in anticipation of the new season we'll be previewing the action team-by-team, using the draft order from last season. The previews will kick off with the Bengals and run right through the reigning champion Chiefs. Come back each day to check out your favorite team. All ADP and Rankings reflect PPR scoring. 2020 Projections are based on a 12-team league (i.e. WR1 (Top 12), WR2 (13-24), WR3 (25-36)).
The Jaguars rolled into 2019 with a new quarterback—free agent Nick Foles—and new hope for the season. Foles was injured during the opening contest, a loss to the Kansas City Chiefs, and was barely a factor the rest of the season. In his place came Sixth Round pick Gardner Minshew, who at times looked amazing. He sparked Minshew Mania and made Jorts a fashion statement, but it translated to limited success for the Jaguars on the field. The team finished 6-10, in last place in the AFC South.
During the off-season the Jaguars elected to keep Head Coach Doug Marrone and seem to have given into Minshew Mania. Foles was shipped to Chicago to compete with Mitch Trubisky, and Minshew is the man in Jacksonville. Whether he's the quarterback of the future or a bridge to a better option in the 2021 Draft seems to be a question this team will answer on the field in 2020.
Off-Season Changes
The Jaguars weren't major players this off-season, adding only veteran Mike Glennon as a backup QB and veteran Tyler Eifert—formerly of the Bengals—as pieces on offense. Eifert has had talent and flashed when healthy, recording 52 receptions for 615 yards and 13 TDs in 13 games in 2015. The problem is the next three seasons he played in just 14 games combined. In 2019, Eifert appeared in all 16 games for the Bengals, catching 43 passes for 436 yards and three TDs. The Jaguars are hoping to get that kind of effort from Eifert in 2020 to bolster their TE position.
In the draft, the Jaguars added receiver Laviska Shenault, Jr., who was talented but struggled with injuries at Colorado. He caught 86 passes for 1,011 yards and six TDs in 2018 in nine games, adding 56 receptions for 764 yards and four TDs in 11 games in 2019. They also grabbed Texas receiver Collin Johnson later in the draft and signed former Washington running back Chris Thompson, a favorite of new Offensive Coordinator and former Washington Head Coach Jay Gruden.
Fantasy Impact
Do you believe in Minshew Mania? In a part-time starting role in 2019 he finished as QB20, and is currently going as QB27. If you see QB2 potential, or him building on his 2019 finish, he's a good value. I like him more as a QB3. There's less doubt about running back Leonard Fournette, who posted 1,152 yards rushing and three TDs along with 76 receptions for 522 yards in 2019. That was good enough for RB13 last year. I think he's a high-end RB2/fringe RB1 in 2020 as well. Thompson had some decent seasons with Gruden and is a talented pass catcher, but I am not trusting him here. He's an end of draft stash at best at this point.
In the passing game, D.J. Chark was the breakout receiver in 2020. He finished as WR16, nabbing 73 passes for 1,008 yards and eight TDs. The Jaguars also have veterans Dede Westbrook and Chris Conley, along with Shenault and Johnson vying for targets. Chark is my receiver of choice, but I'm not bullish on the Jaguars' pass offense. I have him as a high end WR3. Among the others, if I'm taking a depth-based dart throw I like Conley the best in re-draft and Shenault in dynasty. I think Eifert could be effective to the point I'd take him as a low-end TE2.
Prediction
The Jaguars have a lot of issues, and a lot of questions. Minshew will get his shot, but I'm not sold he's the answer. Fournette is in a contract year and star defensive lineman Yannick Ngakoue is currently demanding a trade. I think the Jaguars will likely be one of the worst—if not the worst—teams in the NFL and are on track to snag Trevor Lawrence in the 2021 NFL Draft.
Matthew Fox is a graduate of the Radio, Television and Film program at Biola University, and a giant nerd. He spends his free time watching movies, TV, and obsessing about football. He is a member of the FSWA. You can find him @knighthawk7734 on Twitter and as co-host of the Fantasy Football Roundtable Podcast.