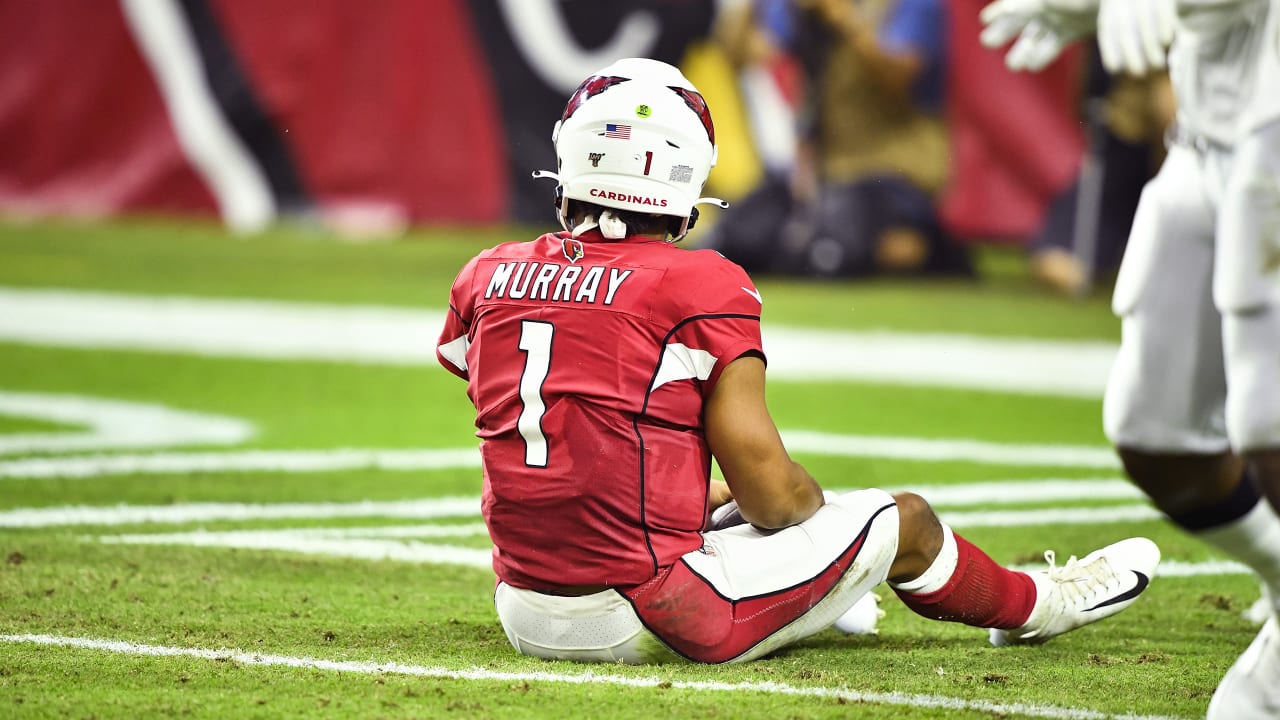 The 2020 NFL Season is nearly upon us, and in anticipation of the new season we'll be previewing the action team-by-team, using the draft order from last season. The previews will kick off with the Bengals and run right through the reigning champion Chiefs. Come back each day to check out your favorite team. All ADP and Rankings reflect PPR scoring. 2020 Projections are based on a 12-team league (i.e. WR1 (Top 12), WR2 (13-24), WR3 (25-36)).
For the second time in as many years the Cardinals spent their top draft pick on a quarterback in 2019. This time it was to nab Kyler Murray to power the offense to be installed by new Head Coach Kliff Kingsbury. Murray was stout, finishing as the Offensive Rookie of the Year for the NFL. And while the Cardinals made some progress besting the league-worst record they turned in during the 2018 season they fell short of the playoffs.
The team put together a three-game winning streak to sit at 3-3-1 by mid-season, but they recorded just two more wins in the next nine games. The Cardinals finished 5-10-1 on the season and earned a Top 10 pick for the third straight season. This time the team aims to better their fortunes and compete in the loaded NFC West.
Off-Season Changes
The biggest change for the Cardinals was a trade that sent one-time franchise running back David Johnson to Houston in exchange for DeAndre Hopkins, one of the best receivers in the game. In 2019 for the playoff-bound Texans, Hopkins saw 150 targets and caught 104 passes for 1,165 yards and seven TDs. In seven seasons for the Texans, Hopkins has 632 receptions for 8,602 yards and 54 TDs. He's in his prime and gives Murray a superb No. 1 target for a high-volume offense.
The Cardinals spent much of their draft building up the defense, including taking Clemson linebacker Isaiah Simmons with their first pick. They also snagged running back Eno Benjamin in the seventh round, and he's a decent stash in dynasty. In terms of replacing Johnson as the main man in the backfield, the Cardinals locked up Kenyan Drake—who they acquired from the Dolphins via trade mid-season—with the Franchise Tag for 2020.
Fantasy Impact
Murray finished with 3,722 pass yards and 20 TDs against just 12 INTs while completing 64 percent of his passes. He added 544 yards and four TDs rushing, and was QB7 in 2019 despite being sacked 48 times. He has Top 5 potential as a QB in 2020 with the addition of Hopkins and should be drafted accordingly. In the backfield, I like Drake as a potential RB1 also. He finished with 643 yards and eight TDs, catching 28 passes for 171 yards in eight games in Arizona. He should be a great duel threat in 2020. The Cardinals still have Chase Edmonds and Benjamin, but neither is more than a handcuff at this point.
Among receivers, Hopkins has been a Top 5 option for several years and that shouldn't change with his migration to Arizona. He figures to be the lead dog for Murray as he was for Deshaun Watson in Houston. Behind him the Cardinals have Christian Kirk and the ageless wonder Larry Fitzgerald. They also have second year receivers Andy Isabella and Hakeem Butler fighting for snaps. For fantasy purposes I think Kirk becomes the No.2 and is a high-end WR4 in fantasy, with Fitzgerald fading a bit and finishing as a WR5. Isabella and Butler are little more than dynasty stashes, and there isn't a tight end in Arizona worth rostering at this point in re-draft.
Prediction
The Cardinals are working to get better, and I like what they're building. I'm still not 100 percent sold on the Kingsbury system, but it was decent at times in 2019. The problem for the Cardinals is being in a division with the 49ers, Rams and Seahawks, two of which represented the NFC in the Super Bowl the past two seasons. The Cardinals should be better, but I'd predict them around .500 and out of the playoffs again in 2020.
Matthew Fox is a graduate of the Radio, Television and Film program at Biola University, and a giant nerd. He spends his free time watching movies, TV, and obsessing about football. You can find him @knighthawk7734 on Twitter and as co-host of the Fantasy Football Roundtable Podcast, a proud member of the Drive-In Podcast Network.