The NFL's schedule juggling has made Week 6 of the NFL Season a little different. There was no Thursday Night Football, and there's once again two games on Monday night. We also have four teams on a bye, including the Saints, Seahawks, Chargers, and Raiders. But we still have 12 games to choose from on Sunday, and some interesting matchups. Below are five I find most intriguing.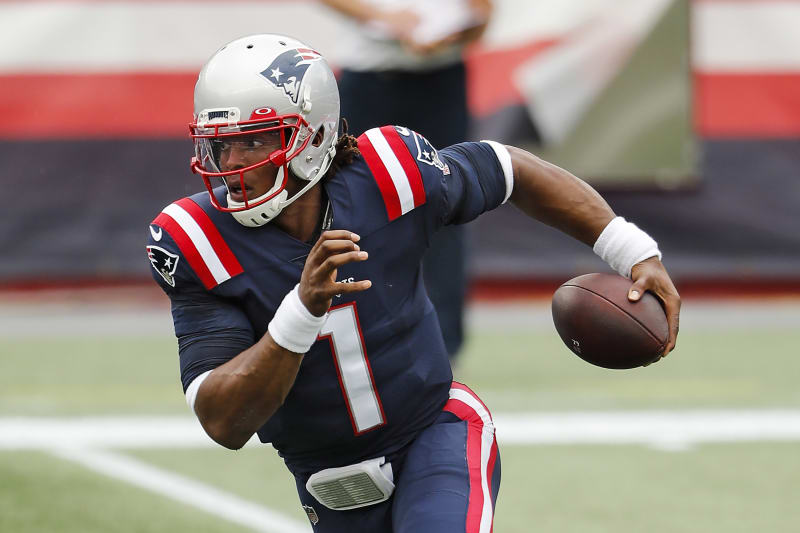 Sunday Early Games:
Denver Broncos (1-3) at New England Patriots (2-2)
This game was supposed to be last week, but a positive test on Sunday pushed it off and created scheduling dominos. But it also means this game might feature more stars than we expected. Cam Newton rejoined the Patriots and figures to play. Drew Lock and Noah Fant are back practicing and could be available for the Broncos. Philip Lindsay will also be back, though Melvin Gordon could well miss thanks to his legal troubles. Either way, this figures to be an interesting matchup.
Washington Football Team (1-4) at New York Giants (0-5)
I know what you're thinking, why is this on the list? Well, both these teams are struggling, but the leader in the NFC East is 2-3 and lost their starting quarterback. These teams aren't out of it yet. Washington pulled Dwayne Haskins after Week 4 to stay in the race, while the Giants' offense looked better in Week 5. One of these teams is going to win, and we could see Alex Smith playing again. So I'm intrigued.
Cleveland Browns (4-1) at Pittsburgh Steelers (4-0)
This battle of division rivals features two teams that have won four straight games and are in the thick of the playoff battle. The Browns lost opening week but have been perfect since, while the Steelers are one of four undefeated teams in the league. The winner here will get an advantage in a tough division and in the race for the playoffs. This figures to be a heck of a battle between a couple good offenses.
Sunday Late Games:
Green Bay Packers (4-0) at Tampa Bay Buccaneers (3-2)
The Packers are coming off a bye week, one of the few scheduled bye weeks that has happened as planned this week, while the Buccaneers are coming off a tough, one-point loss to the Bears. Can Aaron Rodgers and the Packers stay perfect, or will Tom Brady get a win and try to pull the Bucs out of a three-way logjam atop the NFC South? This figures to be the premier matchup of the late window on Sunday.
Sunday Night Game:
Los Angeles Rams (4-1) at San Francisco 49ers (2-3)
The 49ers are quickly losing ground in the NFC West. The Seahawks are 5-0, the Rams 4-1, and the Cardinals 3-2, leaving the 49ers as the only team under .500. That's not great. The 49ers are beat up and coming off a blowout loss to the Miami Dolphins. Now they've got to get the win on Sunday night or risk falling too far back to recover. That will be no easy feat against a solid Rams' team that has looked like a strong playoff contender. This should be one heck of a battle.
Weekly Picks:
Last week Lindsay and I finished with the same record, 9-5, and remain tied heading into Week 6. I've tended toward better performances in even weeks, will that continue? Let's find out.
Matt's Week 6 Picks:
Vikings Over Falcons
Bears Over Panthers
Colts Over Bengals
Steelers Over Browns
Patriots Over Broncos
Lions Over Jaguars
Titans Over Texans
Washington Over Giants
Ravens Over Eagles
Dolphins Over Jets
Packers Over Buccaneers
Rams Over 49ers
Chiefs Over Bills
Cowboys Over Cardinals
Last Week: 9-5
Season: 47-30
Lindsay's Week 6 Picks:
Vikings Over Falcons
Panthers Over Bears
Colts Over Bengals
Browns Over Steelers
Patriots Over Broncos
Jaguars Over Lions
Titans Over Texans
Washington Over Giants
Ravens Over Eagles
Dolphins Over Jets
Packers Over Buccaneers
Rams Over 49ers
Chiefs Over Bills
Cardinals Over Cowboys
Last Week: 9-5
Season: 47-30
Matt's Week 6 Picks Against the Spread:
Vikings -3.5 Over Falcons
Bears +2.5 Over Panthers
Bengals +7.5 Over Ravens
Browns +3.5 Over Steelers
Broncos +8.5 Over Patriots
Lions -3.5 Over Jaguars
Titans -5.5 Over Texans
Washington +2.5 Over Giants
Ravens -7.5 Over Eagles
Jets +8.5 Over Dolphins
Packers -1.5 Over Buccaneers
Rams -3.5 Over 49ers
Chiefs -3.5 Over Bills
Cowboys +2.5 Over Cardinals
Last Week: 8-6
Season: 36-41
Drive In Podcast Network Picks:
Another solid week in Week 5 for Matt Bruening, and he remains on top. But Dennis is right in his rearview mirror.
Matt Bruening:
Last Week: 9-5
Season: 54-23
Dennis Bennett:
Last Week: 9-5
Season: 52-25
Jacob Throneberry:
Last Week: 7-7
Season: 51-26
Matthew Fox:
Last Week: 9-5
Season: 47-30
Lindsay Fox:
Last Week: 9-5
Season: 47-30
Ricky Valero:
Last Week: 8-6
Season: 46-31
Matthew Fox is a graduate of the Radio, Television and Film program at Biola University, and a giant nerd. He spends his free time watching movies, TV, and obsessing about football. He is a member of the FSWA. You can find him @knighthawk7734 on Twitter and as co-host of the Fantasy Football Roundtable Podcast.