Week 3 of SEC football is in the book, so I am going to recap the best games of the weekend and highlight my picks for the top players as well.
My Week 3 Record: 5-2
Overall Record: 13-8

I changed the UK game last second before it started. Something told me they were gonna stop it. Glad to be right.
Best Game
Alabama: 63 vs. Ole Miss: 48

This game was back and forth in the best way possible. Lane Kiffin did everything he could, and probably coached one of the best games I have seen him coach. He put his players in a position to succeed, just had a few things not go their way. We also got to see the surge of Najee Harris, who looked like a top running back in the country. This was an electric game and maybe showed a vulnerable side to the Crimson Tide as well.
Biggest Surprise
Arkansas: 28 vs. Auburn: 30

For the second week in a row, Arkansas shocked… the world really. But, maybe we just need to start taking them seriously and not think of it as "shocking" anymore. Because if it wasn't for a blatant mistake by the refs (a backward pass is a fumble, why is a backward spike not???), Arkansas would be 2-1, high in the SEC West, and have played great against three good teams. I don't think their success is a fluke, I think they have people, now, who want to win and perform. Their defense is stout and Felipe Franks looks great. On the other side of things, Bo Nix, after torching Kentucky, has looked abysmal in their last two games. I can definitely see Arkansas making a push toward the middle of the pack in the SEC West if they can keep this up.
SEC Player (Unit) of the Week
Kentucky
0 TD's allowed, 2 sacks, 5 TFL, 8 QB hurry, 7 PD, 6 INT, 1 TD

Maybe I am cheating in awarding an entire unit this one, but this was the best defensive showcase all season so far, and by Kentucky, a team that was abysmal the first two weeks of the season, especially in pass defense. Ranked worst in the country, UK came up massive against the most pass-heavy team in the country. Maybe the Air Raid isn't difficult to scheme against (drop 8 every play), but Kentucky was still able to take advantage and completely dismantle Mike Leach's offense, and for the first time in Leach's head coaching career, no offensive points were scored. This was actually the least amount of points ever recorded by a Mike Leach team, and if it wasn't for a wild snap on a UK punt, you might've seen a shutout happen. Costello, who looked incredible week one, is slowly falling apart and was even benched this game, throwing 4 interceptions. The entire Defense here deserves a round of applause for how good they were this weekend.
SEC Offensive Player of the Week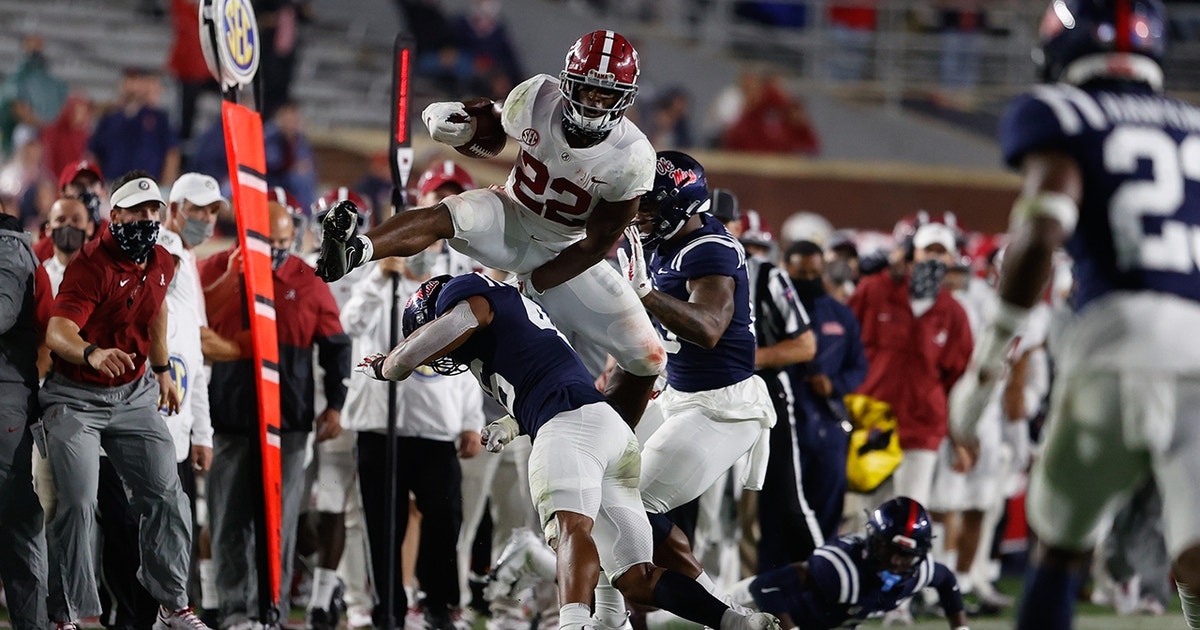 Najee Harris – Alabama
23 carries, 206 yards, 9 y/c, 5 TD, 3 catches, 42 yards

If you are mad at me for not picking Harris as Overall POW, I completely understand. This dude had an unreal performance in a game that was closer than it ever should have been. The 6'2″, 230 lb beast of a RB ran all over the Ole Miss defense to a tune of 5 touchdowns, and didn't let an early fumble deter him from having a monster game.
SEC Defensive Player of the Week
Monty Rice – Georgia
8 tackles, 1 sack, 1 FF, 2 FR,

The Georgia defense looks phenomenal this year, and this week was no different. Rice led this defense in tackles against the Vols and was able to make plays all over the field, including recovering a huge pair of fumbles.
Honorable Mention
Isiah Spiller – Texas A&M
27 carries, 174 yards, 2 TD,

This is the A&M I thought we would see all off-season. They were fantastic this game, and FINALLY allowed Spiller to eat, and he ate. Spiller torched the Gator defense as the Aggies got a much-needed confidence boost before playing Ms. St., a team in shambles.

Connor Bazelak – Missouri
29/34, 406 yards, 4 TDs, 0 INT

Bazelak played like a man possessed this weekend to give Missouri their first win over #17 LSU. Granted, LSU looks nowhere near they did a year ago, but for Missouri, this could be a huge momentum boost. The freshman made every play he needed to win.
Jacob is a film critic and co-founder of the Music City Drive-In. He is a member of the Music City Film Critics' Association and specializes in the awards season. You can find him on Twitter @Tberry57.