Week 1 of SEC football is in the book, so I am going to recap the best games of the weekend, and highlight my picks for the top players as well.
My Week 2 Record: 3-4
Overall Record: 8-6

I will bite the bullet on the Alabama vs A&M game, but the Arkansas game I never would have guessed.
Best Game
Ole Miss: 42 @ Kentucky: 41

Coming into the season Kentucky had high hopes. Through two weeks, the faith in the team might be starting to dwindle, but it didn't come without a valiant effort. And for Lan Kiffin's Ole Miss squad, his first win with his new team couldn't have come any harder. A missed PAT by Kentucky in overtime was the difference in this game that was back and forth from the get go. Both of these defenses look lackluster, but the offenses came to play totaling over 1000 yards between the two teams, including 400+ rushing from Kentucky.
Biggest Surprise
Arkansas: 21 @#16 Mississippi St: 14

I cannot even put into words just the strangeness of this game. Arkansas managed to snap a 20 game SEC losing stream to a team that had just come off a 600+ record-breaking game, and Arkansas is and has been… Arkansas. This is definitely the biggest surprise of the season to date, and it raises questions. Is Arkansas better than we thought? Is Mississippi St. not as good as we thought? All I can say is SEC football is back.
SEC Player of the Week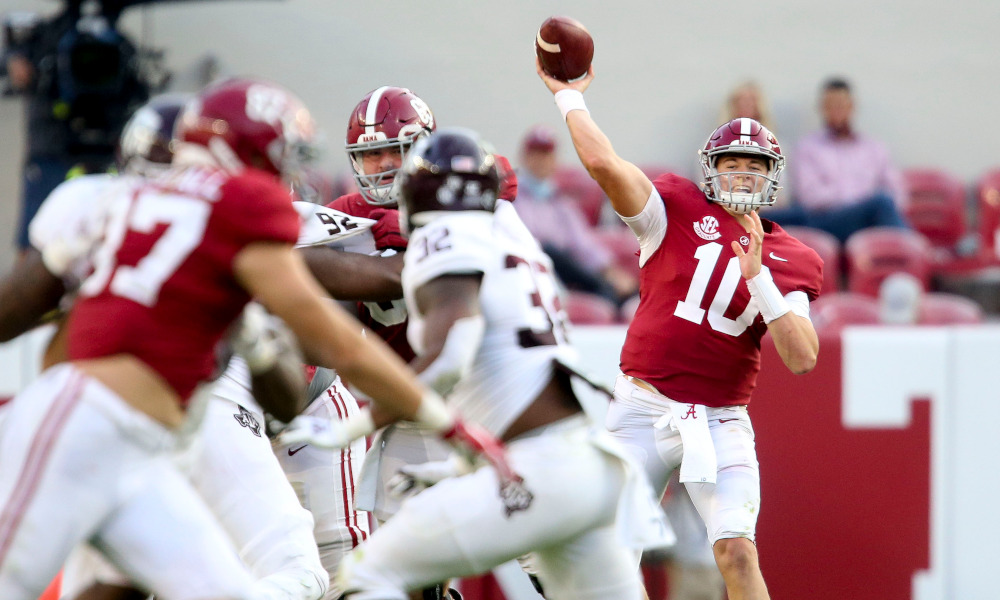 Mac Jones – Alabama

20/27, 435 yards, 4 TDs, 1 INT
I'm giving it to Mac, because many, including myself, haven't believed in him like maybe we should have. After an early interception, Jones was on, and was able to lead the Crimson Tide past an A&M team with an upset on its mind. This was easily Jones' best game in an Alabama uniform, and proved that he is the QB for this team.
SEC Offensive Player of the Week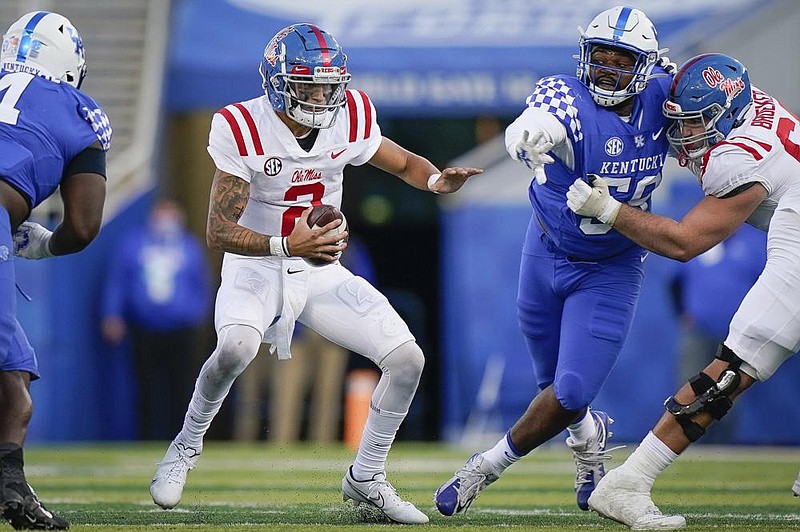 Matt Corral – Ole Miss
24/29, 320 yards, 4 TDs, 0 INTs, 13 carries, 51 yards

Corral was big in the losing effort to Florida, and he came in even bigger here. Corral managed to rack up almost 400 yards himself, while not turning the ball over, and orchestrating a fast past/high tempo offense. Many people thought Plumlee was the guy Kiffin wanted to roll with, but Corral proved this job is his.
SEC Defensive Player of the Week
Bumper Pool – Arkansas
20 total tackles, 2 pass defense

Anytime someone hits 10 total tackles, you can tell they are flying all over the field. If someone gets above 15, you can tell they just know what is going on. When someone hits 20, they are in a defensive zone, and Saturday Pool was in that zone. Bumper Pool lead this Razorback defense against a team that had just thrown all over LSU the week before. He led the team with 20 total tackles and had 2 pass defense to go with it in a valiant effort to give Arkansas their first SEC win in 20 games.
Honorable Mention
Terry Wilson – Kentucky
14/18, 151 yards, 0 TDs, 0 INT, 22 carries, 129 yards, 3 TDs

In a losing effort, Wilson managed to play phenomenally. Scoring three runs on the ground and playing well through the air. Led Kentucky to 41 points, and it is hard to fault the offense for losing a game in which it scores 40+.

John Metchie III – Alabama
5 catches, 181 yards, 36.2 average, 2 TDs

Long bomb machine, Metchie was able to haul in passes of 78 and 63 yards and was the surprise standout vs A&M.

Feleipe Franks – Arkansas
20/28, 212 yards, 2 TDs

Transferred from Florida after losing the starting job. Led Arkansas to their first SEC win in 20 games. Don't need to say much more than that.
Jacob is a film critic and co-founder of the Music City Drive-In. He is a member of the Music City Film Critics' Association and specializes in the awards season. You can find him on Twitter @Tberry57.