We knew it was going to happen in some way, and now it has. After a group of positive tests for the Tennessee Titans, the NFL has its first scheduling impact due to COVID 19. Well, first regular season impact. Of course the pre-season was scrapped largely due to the impact as well. But in Week 4, the game scheduled between the Steelers and Titans has been pushed to later in the season.
What does that mean? Well, for football it means one less good game this weekend. For fantasy, it means get the Steelers and Titans players out of your lineups. And, most of all, it means don't panic. It's one team and one game at this point. Earlier this summer we saw the Cardinals and Marlins suffer many postponed games dealing with outbreaks. Both have since finished their season and are both in the expanded playoffs. So it's not time for football fans to panic yet, but it's worth watching to see what happens.
Now, on to happier news…well at least news anyway, there's a game tonight. And what a game it is—the winless and hapless Denver Broncos travel to play the winless and hapless New York Jets. This could be an early battle for the No. 1 overall pick. For the Jets, many saw this coming. For the Broncos, injuries and inefficiency have led to a brutal start. Now both teams are looking for their first win on Thursday night. But should you have any players in your lineups? Let's consider.
Fantasy Impact
While this game could be an intriguing chess match, it likely won't be a high scoring game. Neither of these teams have been fantasy stars the first few weeks, and that doesn't figure to change tonight. Let's look at the Broncos first as they turn to their new starting quarterback, second-year man Brett Rypien.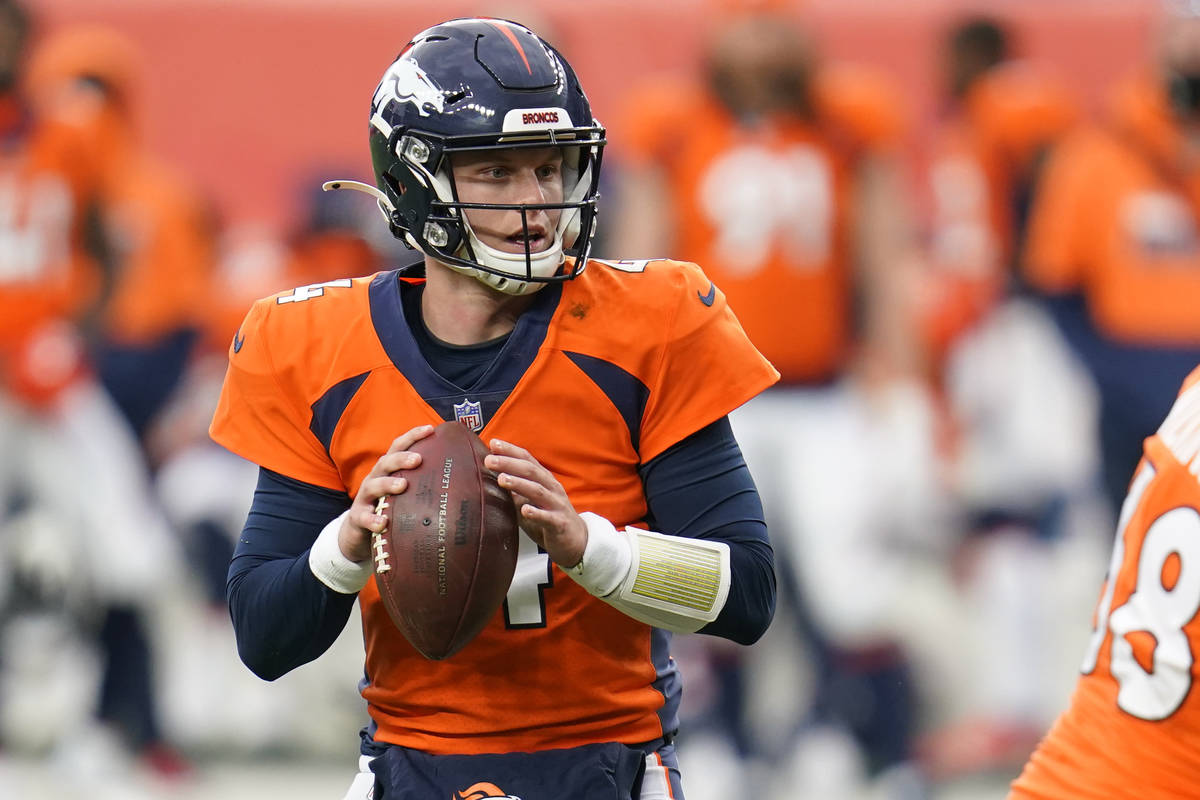 Rypien relieved Jeff Driskell last week, going 8-for-9 for 53 yards. His one incompletion, and his final pass attempt, was an interception. Still, he moved the offense well at times. But despite that, I have him ranked as a QB3 this week. Among the skill position players, the Jets have shown a vulnerability to rushing, so Melvin Gordon is a good play. Philip Lindsay is a game-time decision, and I'm leaning toward him not playing. That could lead Gordon to be a low-end RB1 given the matchup and the young quarterback leading Denver.
Among the pass catchers, I like tight end Noah Fant the best. He's still a start for me. Jerry Jeudy has potential, as does fellow rookie K.J. Hamler, but both are WR3/4 territory at best. Given the injuries and the missing teams, though, you might be pressed to start them.
For the Jets, Sam Darnold is in a crucial year three, but he hasn't looked good. He's a QB3 for me, too. In the backfield, Frank Gore, Kallen Ballage and La'Mical Perine all seem to be in the mix. Gore is probably the best play in the backfield, but I'm not expecting any to be a great play. Same goes for receivers. Braxton Berrios has had a few nice games, but it looks like Jamison Crowder will be a go again tonight. If that's the case, Crowder is the only Jets receiver—and really only Jets player—I'd be interested in starting.
This could be an ugly game, but it's a game, so enjoy!
Drive-In Podcast Network Picks
We have a new leader! Thanks to some hot picking the last two weeks, Matthew Bruening has taken the lead. Will it last? Tune in next week to see where we're at! Also, my wife is once again Here's this week's standings.
Matthew Bruening
Last Week: 11-5
Season: 33-15
Jacob Throneberry
Last Week: 7-9
Season: 32-16
Dennis Bennett
Last Week: 10-6
Season: 31-17
Lindsay Fox
Last Week: 11-5
Season: 30-18
Matthew Fox
Last Week: 8-8
Season: 28-20
Ricky Valero
Last Week: 7-9
Season: 27-21
Kenzie Vanunu
Last Week: 10-6
Season: 19-29
Chris Stoops
Last Week: 0-16
Season: 9-39
Matthew Fox is a graduate of the Radio, Television and Film program at Biola University, and a giant nerd. He spends his free time watching movies, TV, and obsessing about football. He is a member of the FSWA. You can find him @knighthawk7734 on Twitter and as co-host of the Fantasy Football Roundtable Podcast.