Week 1 of SEC football is in the book, so I am going to recap the best games of the weekend, and highlight my picks for the top players as well.
Best Game
#5 Florida: 51 @ Ole Miss: 35

Trask and Pitts were on an absolute tear connecting for 4 scores. Florida looked and played like the team to beat in the SEC East. If it wasn't for Costello breaking records, Trask would have been the player of the week in the SEC. Maybe the score doesn't make it seem like this was a close game, but Lane Kiffin and Ole Miss were able to keep some pressure on one of the SEC's best.
Biggest Surprise
Vanderbilt: 12 @ #10 Texas A&M: 17

Well, who could've seen this coming? Texas A&M was poised to be one of the best teams in the SEC, while Vanderbilt was looking like well, Vanderbilt. A&M manages to put the ball on the ground 5 times, and against any better team in the SEC, A&M would have lost. Ball security is a fixable mistake, but this was not the opener that Aggie fans wanted to see as it was a loss in every aspect other than the score column.
SEC Player of the Week
K.J. Costello – Mississippi St.
36/60, 623 yards, 5 TD, 2 INT

For most QBs, anywhere around 300 yards is a very good game. Once you get up around the 400 yard mark, everything must be going right. 600+ yards is unthinkable, and something that has never been done in the SEC. The last time an SEC QB threw for over 500 yards was Tyler Bray at Tennessee in 2012. Maybe other players had better performances, but Costello broke a long-standing record against the former National Champs. I realize this is a very different LSU team, but it is still LSU nonetheless. To know he did this with also throwing 2 interceptions is quintessential Air Raid stuff from Mike Leach, and if they can keep this up, the Bulldogs are going to be a problem.
SEC Offensive Player of the Week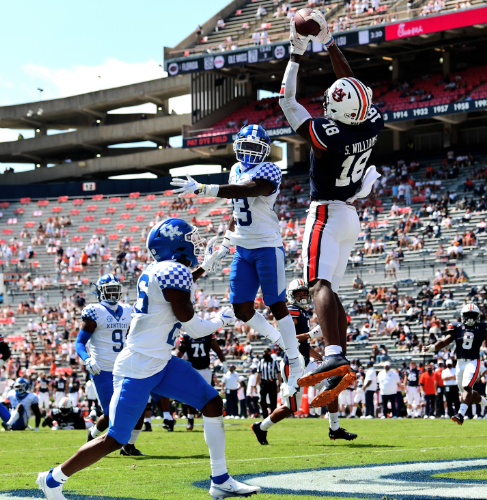 Seth Williams – Auburn
6 catches, 112 yards, 2 TD, 18.7 YPC

Seth Williams looked like one of the SEC's best WR after week one bringing in over 100 yards and two TD on 6 receptions. A defense that did not give up big plays last year got torched by Williams and Bo Nix as they look to be one of the best QB/WR duos in the SEC. Williams was able to bring up some really big catches including the one shown he had to really go up to get.
SEC Defensive Player of the Week
Richard LeCounte – Georgia
3 tackles, 2 INTs, 1 pass defense

LeCounte helped to keep Georgia in a game they were losing 7-5 at halftime, to Arkansas. The Georgia offense was stagnant until the third quarter, but the defense was stout and managed to keep them alive long enough for Junior Stetson Bennett to come in and get comfortable so he could toss 20/29 for 211 and 2 TDs.
Honorable Mention
Bo Nix – Auburn
16/27, 233 yards, 3 TDs, 0 INT

Nix was lights out for Auburn and proved any doubters wrong. He made plays with his arm and his legs throughout the game. He isn't a fine-tuned prospect, yet, but if he continues this trajectory, his draft stock will go through the roof.

Kyle Trask – Florida
30/42, 416 yards, 6 TDs, 0 INT

Trask was lights out for Florida leading them to a victory in a game that was probably closer than Florida would have liked. He came out and, at least in week one, proved that last season wasn't a fluke. He was hitting passes with ease, and making good decisions with the ball. Trask to Pitts could be a deadly combo this season.

Stetson Bennett – Georgia
20/29, 211 yards, 2 TDs, 0 INT

It goes to say something when your team's 4th string QB is able to still come in and carve up an SEC defense. A Jamie Newman opt-out, J.T. Daniels injury, and D'Wan Mathis poor play gave the former walk-on his moment to shine, and he took advantage of it. He gave the Bulldogs the spark they needed to avoid the upset.
Jacob is a film critic and co-founder of the Music City Drive-In. He is a member of the Music City Film Critics' Association and specializes in the awards season. You can find him on Twitter @Tberry57.